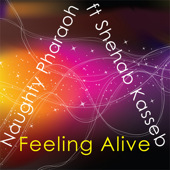 Feel Alive with Naughty Pharaoh!
Feel Alive with Naughty Pharaoh and his hot new track!

The new single, Feeling Alive, is undoubtedly a track with the most potential of success, Naughty Pharaoh brings listners a track that is sure to be popular with club goers. Dance in style, but pure electro beats make up the skeleton for this popular track.
For more information and music from Naughty Pharaoh, visit his MySpace: www.myspace.com/naughtypharaoh
Purchase the single today through Amazon, or click on the link below to purchase it through iTunes.
iTunes:
Amazon:
Purchase-Link