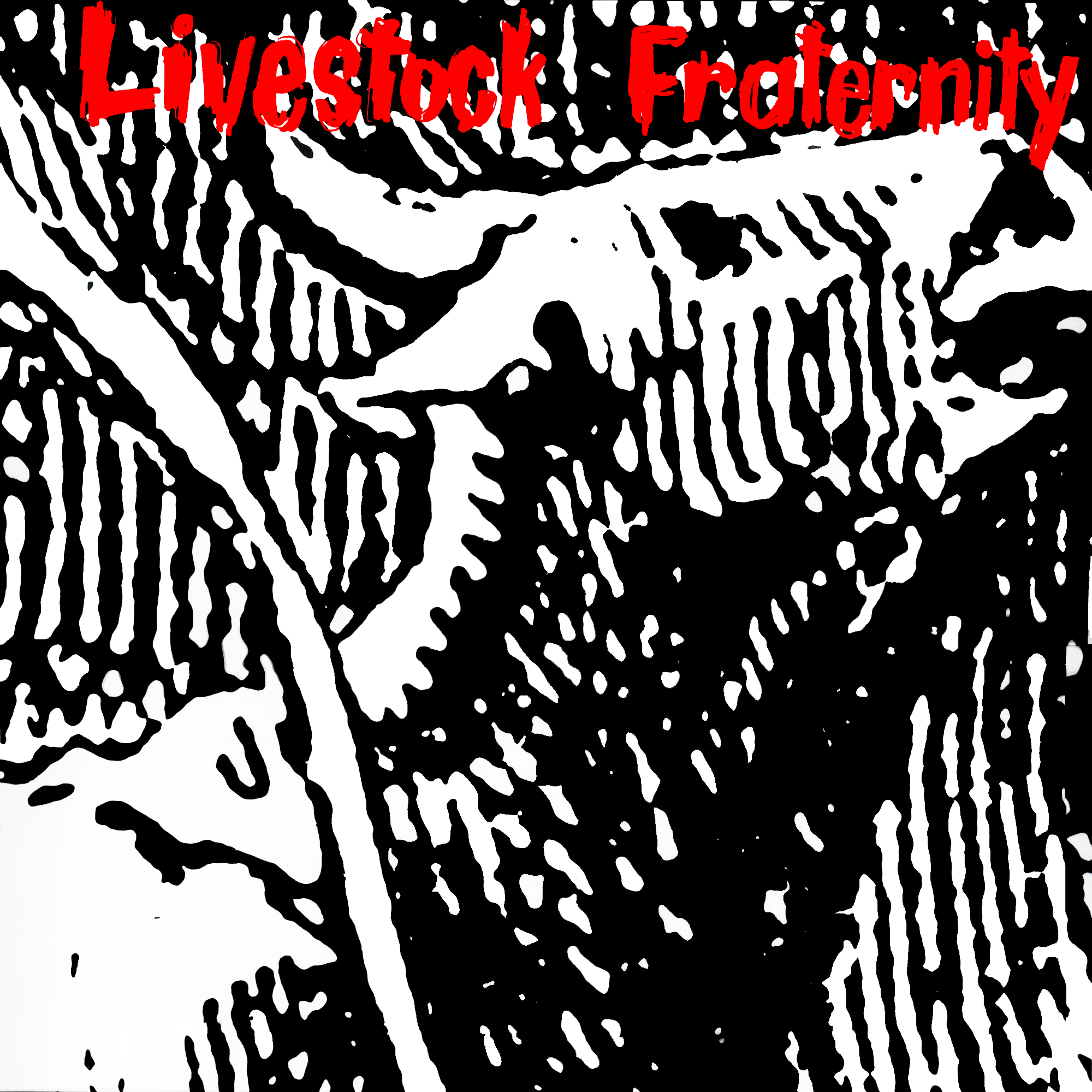 Fraternity's ground breaking debut album " Live Stock " sees new life with original artwork !
Fraternity are one of Australia's greatest ProRock bands to emerge from the early 1970's. Featuring the incredible vocal talents and stage presence of Australia's legendary  rock and roll  front man, Bon Scott. This was the band that cut Bon's rock teeth to a razor sharp edge.
It is more than likely that without the influence of his good friend Peter Head and his band HeadBand www.headbandmusic.com this venture into the worlds of progressive rock and experimenting with sounds, instruments and what can only be regarded as headonistic rock tunes, would probably never have happened.
On Fraternity's Live Stock album, Bon lets us know just how much of an incredible singer he was, cutting his rock teeth to a razor sharp edge on this body of work. It is ironic to think that in this band Bon was the relative baby, or new comer to the band and in a few short years he would take up residency with ACDC and be affectionately known as the "Old Man" by the Young's and their fellow band mates of ACDC.
It is important to remember that Bon was 27 when he joined ACDC and his band mates were all under 21. As anyone would know who has been in bands that are out there living, breathing and eating cornflakes for breakfast, lunch and dinner and paying their dues on the road with blood, sweat, tears and an empty wallet that there are not many bands that start out with such an age gap that survive. This is primarily due to the vast differences in musical time zone tastes and reference points. You tend to listen to difference music. Just think when you were at school and what you listened to and what the kids in the years above you listened to. This will help to put the age gap into perspective when you try to understand that unusual dynamic between the Young brothers and Bon that existed in ACDC.
One of Bon's first comments when he saw ACDC play was " they are all just kids ". When your 21, you are not hanging out with 27/28 year olds. They are the " old men " on the music battleground playing fields of hunting girls, parties and a non-stop good time.
Fraternity had two very distinct periods in their evolution. They are the 1970-73 line up with Bon Scott and the post Bon versionwith the 1974-75 line up.
1970-73:
Uncle" John Ayers (harmonica, vocals) 1971-73
John Bisset (keyboards) 1970-73
Tony Buettel (drums) 1970
John Freeman (drums) late 1970-1973
Bruce Howe (bass) 1970-73
Mick Jurd (guitar)
Bon Scott (vocals) 1970-73
Sam See (slide guitar, piano) 1971-73
1974-75:
Uncle" John Ayers (harmonica, vocals)
John Freeman (drums)
Bruce Howe (bass)
Jimmy Barnes (vocals) 1975
Mauri Berg (drums)
Peter Bersee (violin)
John "Swanee" Swan (vocals) 1974, (drums) 1975
In early 1970 John Robinson ( Blackfeather ) had penned what would go on to become a classic Australia song called " Seasons of Change ".  John Robinson, had recently launched his own band, Blackfeather and was a friend of one popular Adelaide night club owners a Mr John Sinclair who owned a club called " Johnathans" in Adelaide. Sinclairs brother David had recently been appointed by Festival Records to run their new progressive label Infinity. A labaryth of relationships all lead to the Adelaide music Nirvana to get a recording contracts and music made. Jim Stewart a known producer at the time was right in the midst of this melting pot.
Robinson often stopped in at Jonathan's late in the evening to jam with Fraternity, and as a result he became good friends with them, especially Bon Scott. One of Blackfeather's biggest live numbers was a new song called "Seasons Of Change" which had begun life as a Dave Miller Set jam back in 1969 ( You can watch the video of the band below live on GTK ). Fraternity's Bruce Howe was one of several Sydney musos who were much taken with the song, which had an unusual "olde English" feel. In late 1970 Blackfeather began recording their debut album," At The Mountains Of Madness", and as a result of the friendship between the two groups, Bon agreed to pay recorder on Blackfeather's version of "Seasons of Change" and Bisset played electric piano on the album's closing track "The Rat". That version of this song is below for you to watch on YOU TUBE.
Fraternity's first single "Why Did It Have To Be Me?" (backed by a version of The Moody Blues' "Question" was issued on Sweet Peach ( Jim Stewarts Label ) in October 1970. Around this time Buettel left and was replaced by another former Clefs member, John Freeman, formerly of noted Adelaide band Red Angel Panic and a legend on the drums. The group then went into Sydney's United Sound Studios to record their debut album Livestock, which was produced by Doug Ashdown and Jimmy Stewart and then released on Jim's label " Sweet Peach".
After the LP came out Adelaide businessman Hamish Henry took over management of Fraternity and the group moved to Adelaide. Most of the band took up residence at Hemmings Farm in the Adelaide Hills, where they wrote and rehearsed communally (in the spirit of Traffic and The Band) while Bissett and his wife rented a flat above Henry's art gallery in North Adelaide.
Vince Lovegrove reported on the group's new base in the June 1971 edition of Go-Set:
"(Fraternity) live like no other band in Australia, in a house in the hills 17 miles from Adelaide. It's surrounded by seven acres of bushland. They're from everything but nature. What a buzz! Once a week they come into the city to have a meeting with their management and collect their pay. They only leave their pad to play gigs. "
"Bon Scott, vocalist, recorder and timbala player, is constantly in a dream world of his own but he's having a ball. He says: 'The point is, the dollar sign is not the ultimate. We want to try and help each other develop and live. So that the thing inside of us, whether it be creative or not, is satisfied. Something makes us tick and it's up to people to satisfy that something. We are satisfying ourselves and others by creating an environment."
The group's next single from the album Livestock was "Why Did It Have To Be Me?" b/w "Cool Spot" was issued in January, but did not chart. Their second single of the album " Seasons of Change " became their only major hit here in Australia, it reached #1 in Adelaide and made the Top Ten in other cities, but for reasons beyond their control it faced strong competition from the original version by Blackfeather.
As noted above, Fraternity had wanted to cover "Seasons of Change" for some time, and with the blessing of David Sinclair and John Robinson, they cut their own version, which was released in March 1971. It would probably have been a major national hit, because John Robinson had generously obtained an undertaking from Infinity not to release Blackfeather's version as a single. Predictably though, as soon as Fraternity's version became a hit in Adelaide, Festival reneged on its promise and rushed out the Blackfeather version as a single.
On the back of the success with Livestock and Seasons of change, Fratenity expanded taking on two new members in late 1971. This took the band to a seven-piece. Harmonica player "Uncle" John Ayers joined in May, and not long after that the group achieved another career peak, winning the 1971 Hoadley's Battle of the Sounds.
Next on board was guitarist-pianist Sam See (ex Sherbet, Flying Circus) who was apparently approached to join Fraternity by Bruce Howe. Sam left Flying Circus at the completion of their Australian tour in September. Flying Circus had relocated to America earlier in the year and they were beginning to build up a following in Canada, where they recently toured, and they returned there after their Australian tour and it eventually became their permanent base.
Adelaide has been one of the most incredible melting pots for rock icons in Australia. Casting metal form to artists and bands like Fraternity, The Mount Lofty Rangers, Bon Scott, Jimmy Barnes, HeadBand and Swanee to name just a few. With the help of Peter Head from HeadBand www.headbandmusic.com and Australian producer Jim Stewart, Blue Pie Records is extremely excited to announce the re-issue of one of Australia's greatest prog-rock albums, featuring Bon Scott on vocals. The album is available for the world to download and stream on iTunes, Spotify and other leading digital retailers.
We hope that you will take the time to view the videos below and download this pioneering work of Australian prog-rock.
Fraternity – Live Stock:
https://itunes.apple.com/us/album/livestock-feat.-bon-scott/id1039433348
Fraternity – Live on YouTube:
Purchase-Link