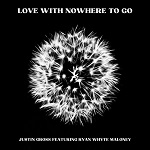 From Nashville to France: Justin Gross' Song Takes the World by Storm with Covers from Ryan Whyte Maloney and Andrea Onoffmusic
Exciting news from Blue Pie Records! Emerging artist Ryan Whyte Maloney has covered the song "Love With Nowhere To Go," a track co-written by the talented Justin Gross and published by Blue Pie Publishing ASCAP. You can even see Ryan at work in this awesome Youtube Short he made!
Ryan Whyte Maloney is an American singer-songwriter and guitarist who has been making waves in the music industry for years. He first gained national recognition as a top 4 finalist on the sixth season of "The Voice," where he was a member of Blake Shelton's team. Since then, Maloney has released several albums and singles and has toured extensively throughout the United States, showcasing his unique blend of rock, country, and blues. With his soaring vocals and dynamic guitar playing, Maloney is a true talent and one to watch in the years to come.
Maloney brings a whole new dimension to the track. His rendition is a testament to his incredible talent and musicality, and it's no wonder that he has garnered a devoted following of fans.
The song has taken on an international life of its own, with an amazing French cover version featuring the lovely and talented Andrea Onoffmusic.
For Justin Gross, having his songs covered by such great artists is a special thing indeed, especially given his long association with Blue Pie Records since its founding days in the mid-90s. Gross is part of the musical duo Southpaw, along with Blue Pie CEO Damien Reilly, and is thrilled to see his music continue to resonate with audiences around the world.
But that's not all – the song "Coast to Coast," written by Gross and Reilly as Southpaw, has been chosen as the main theme song for the film "A World of Difference." The documentary follows the journey of Sam Pollard as he bikes "coast to coast" across Australia, and the upbeat and catchy track is a perfect fit for the film.
Congratulations to Justin Gross on his continued success, and special thanks to Ryan Whyte Maloney and Andrea Onoffmusic for bringing new life to his music. Stay tuned for more exciting news from Blue Pie Records!