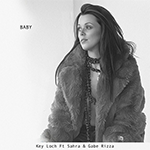 Gabe Rizza, Sahra, and Key Loch are back, baby!
Another passionate Key Loch release has hit the internet! BABY features Sahra and Gabe Rizza, and you know with them involved, this track is gonna undertake a certain style. It's gonna embody a kind of longing that is hard to capture in music, but within the yearning sound of the vocals and the smooth guitar chords, they've managed to do it once again!
This little number was written by Damien Reilly and Sahra, and was produced by Gabe Rizza and Damien Reilly. We've been submitting it to Spotify playlists for their consideration, and it's been listed there too! Along with confirmation of the acceptance to the playlist, the song has been getting great reviews and feedback from the playlist managers. Here's a few of our favourites!
If you wanted to find the track on Spotify too, you can check out any of their playlists… and of course, the single is hosted on Key Loch's profile too!
Baby is a smooth treat to the ears that combines several genres and musical aesthetics in that typical eclectic Key Loch style. Their trait of trying a little bit of everything pays off big time when you encounter creative synergy like this, and we're very excited that the public agrees! Be sure to let us know your thoughts too.
Key Loch are Damien Reilly and Justin Gross. They are the founders of the 90's power Aussie Rock Band Southpaw. They bring together a production history between them of 50 years of song writing and playing live music in Australia. They collaborate with mixers such as Gabe Rizza, Tom Polce, and Chris Garcia, and vocalists such as Avery May Parker and Sahra, and the melting pot of talents and life journeys is clear to hear in their wonderful music across the many genres in which they dabble. The future is bright and Key Loch are wearing shades as they unlock the musical doors of your mind and fill it full of awesome music. The playlisters agree – this is a group you don't wanna miss out on.
Key Loch links: