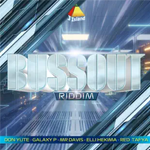 Get ready to bust out with BUSSOUT RIDDIM from several Afrobeat favourites!
We got several heavy hitters from JIsland Records today. The talented song writers of Peter Jackson, Jason Andrew Williams, Tyrone Davis, Omar Facey, and Kirklan Alexander Gordon have united to bring us Bussout Riddim, a compilation of five fantastic Afrobeat performers in the JIsland roster. Respectively, the tracks are Doctor Miami, Love the Way, How You so Greedy, Da Body Deh, and Real Ole G, featuring the artistic talents of Galaxy P, Don Yute, Mr Davis, Elli Hekima, and Red Tafya.
World-style music this good is very hard to achieve, as a distinct sound like this is very familiar to its followers – if you're not confident or slip up even a little bit, it'll cause a very noticeable change to the sound. But these five legends have easily sidestepped this potential pitfall, using their industry expertise and creative drive to avoid it entirely and give us one hell of a great album.
From start to finish, Bussout Riddim is packed with contagious grooves and catchy hooks that will leave you feeling like you've been transported to a vibrant Afrobeat street party. Each song features smooth and soulful vocals paired with pounding beats, driving brass, and sultry synths, making this album a true showcase of the genre's signature sound.
With its electrifying energy and undeniable vibe, Bussout Riddim is sure to become the soundtrack of the summer, bringing people together to dance, sing, and celebrate life. So turn up the volume, grab your friends, and get ready to buss out to the rhythm of this epic album. Trust us, once you hear it, you won't be able to resist the urge to move your feet! So get into it while the hot season lasts!
In short, Bussout Riddim is a triumph of Afrobeat, a must-have for any music lover, and a celebration of the genre's enduring appeal. Don't miss out on this chance to experience the ultimate in feel-good, party-starting music. Get your copy today, or stream it on Spotify!