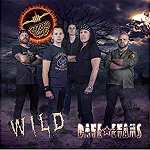 Get ready to get WILD for your NYE parties! Here's DAVE EVANS AND BARBED WIRE WITH "WILD"!
It's FINALLY out! We teased this a while back, and now it's finally time to truly get wild – the collab EP between Dave Evans and Barbed Wire is out! Get ready for WILD!
Released through MR Records, this is a flavourful release from the retro rockin' team-up that we've been teased on for a while now, and now that it's finally out, we couldn't be any more hype! Can you blame us with juicy tidbits like this video setting the stage for how the EP would go down? Well, now that it's out, we can say this for sure – "Wild" didn't disappoint our colossal expectations!
Barbed Wire are the perfect choice for a collab like this, considering their regular catalogue is already bangin' and worthy of the thrashing style of the legendary ex-AC/DC member.
This is the perfect send-off to 2020, as a defiant and intense thrashfest that'll send this garbage year packing! Bring on the greener pastures of 2021 and we'll see you in the new year… we'll be bangin' our heads just as hard to Dave Evans even in 3021! And with the added spice of Barbed Wire in the mix, there's no limit to how hard we can go! Let the party rock on forever!
We hope that if you didn't know Dave Evans and his rockin' legacy before, this will help you get in touch with your long wild hair and 80s attitude once again! Look for Dave Evans at all great music stores across the world. For more information on Dave Evans you can visit his official links below. Dave Evans is a Blue Pie Records USA artist and is published for selected titles by Blue Pie Publishing USA (ASCAP)




Dave Evans: