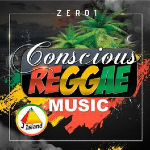 Get Ready to Groove: Zero1's Conscious Reggae Music Album Is Set To Take the World by Storm!
Get ready to groove to the hottest new reggae hit on the scene! Zero1 has just dropped their highly-anticipated 12-track album, "Conscious Reggae Music", and it already has the potential to make strong waves in the music industry.
"Conscious Reggae Music" is more than just a collection of great tracks – it's a cohesive album that takes you on a journey from start to finish. From the upbeat rhythms of "Dreadlocks" and "On The Ball" to the powerful message of "World War 3" and "Love Can Save The World", every track on this album has a purpose and a place in the larger story being told.
And let's not forget the infectious grooves of "Fe The Pickney Dem" and "Take Me To The Country", the soulful melodies of "Angel" and "Love Is All I've Got", and the powerful message of "Better Say Jah Jah" and "Don't Waste Your Time". With such a diverse range of tracks, "Conscious Reggae Music" is an album that truly has something for everyone.
Released under the prestigious JIsland Records label, "Conscious Reggae Music" is a must-listen for all reggae fans out there. From the first track to the last, this album will take you on a journey through the many echelons of reggae, with Zero1's unique sound and style shining through in every song.
Blue Pie Records is helping to distribute the album to an even wider audience, making it easier for fans around the world to access this incredible music. We're very grateful towards JIsland and Zero 1 for allowing us this opportunity, so we're here to eagerly say: If you're looking for some new tunes to open your mind and consciousness, then "Conscious Reggae Music" is the album for you. With its infectious beats, powerful lyrics, and soulful melodies, it's sure to be a hit with music lovers everywhere.
So what are you waiting for? Stream "Conscious Reggae Music" today and join the reggae revolution with Zero1 and JIsland Records.
OFFICIAL LINKS:
ALBUM LINKS:
RADIO LINKS: