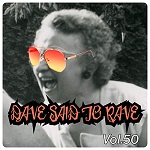 Get ready to rave with Blue Pie's latest rave compilations!
Some wild rave times are in store for you guys! If you miss the golden era of rave with the likes of the Chemical Brothers and Fatboy Slim, we have a treat here for you, straight from Dave himself. Who's Dave? Doesn't matter. Why's Dave important? Because of what he said. What did he say? Dave Said To Rave. Why? Just rave already you old coots!
These funky covers were designed by our in-house design & admin specialist Sara Cornish, and one thing's for sure, they truly pop! They're available on all major online retailers including Amazon and Spotify, so if you need something to bring back the early 90s, we have volume after volume lined up and ready for your perusal!
But it doesn't end there. What, why would it even end there? Are you mad? Perhaps Stark Raving Mad…




Yep, Sara did the covers for these ones too! Trippy, just as trippy as the music itself, just as trippy as you'd like it to be! And yep, you guessed it, this compilation series is also available on Amazon, Spotify, and all the other retailers you know and rely on.
These raving releases are expansive and are ready for you to jam out to for hours on end! With tons and tons of excellent tracks, the most popular of which have more than 5K plays, there's no limit to what kind of bonkers parties you're going to have with these! Rave 'til you're withered and senior, rave until you can't stop… because one thing's for sure, rave is never going to stop! So the only thing that remains to be seen is: how long can YOU last?!