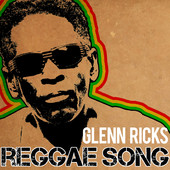 Glenn Ricks – Reggae Song
International Reggae artist Glenn Ricks' iconic album "Reggae Song" is now available on iTunes! This album is a compilation of new and old hits from the iconic Canadian-Jamaican reggae star. This album is the perfect taster of the sheer variety Glenn's unique take on the reggae genre can offer. Tracks range from the iconic reggae classic "Back away Babylon" to his unique take on the classic tune "Knockin' on Heavens door". This album has something for everyone and is sure to convert you into a reggae fan.
Glenn's music has challenged racial stereotypes and paved the way for generations of Canadian and Jamaican musicians to come. His music is a must hear for anyone interested in hearing classic reggae which has inspired a generation of artists.Be sure to check out the music of Glenn Ricks on iTunes, this album is a must hear for anyone interested in classic reggae, chilled beats and a whole lot of variety. Glenn Ricks is signed to 7 Note Records and distributed by Blue Pie for the world.
Purchase-Link