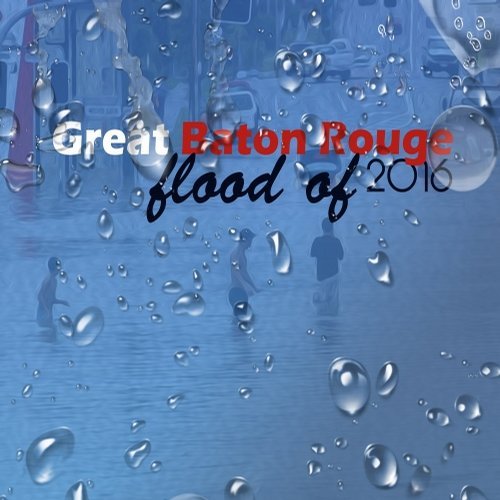 "Great Baton Rouge Flood of 2016" released now on Hit City Records. The Digital Compilation Album by Baton Rouge Recording Artists!
Released on Hit City Digital Records and distributed by Blue Pie Records USA for the world Executive Produced by Henry Turner, Jr. for Hit City Digital Records.
Baton Rouge, LA… "The Great Baton Rouge Flood of 2016" is a digital album of fantastic local talent who were directly and indirectly affected by 'The Storm with No-name." The compilation album is executive produced by Henry Turner Jr. for Hit City Digital Records and is available at all leading digital retailers, streaming services and radio networks immediately.
"The Great Baton Rouge Flood of 2016" features a wide range of original music and genres that include blues, rock, dance songs, love songs, R&B, soul, rockabilly and rap. All the recording artists are widely recognized and favorites of the capitol city's explosive music scene.
The release opens with "The Baton Rouge Theme Song," recorded by Henry Turner Jr. & Flavor and is an homage to the city's upcoming 200th anniversary in 2017. The last cut, "2 Many Women," is one the bands' most requested fan favorites. The light hearted reggae/soul/funk tune touches upon the temptations associated with stardom and female fans.
Stepchild's haunting rocker "Dark Waters, recorded right after Hurricane Katrina, reflects a somber theme of things that can happen at any moment, expected or not.
Regional favorites and national touring acts, who were directly affected, losing their homes, cars, instruments and personal belongings include April "Sexy Red" Jackson, who's "Move," an upbeat dance number's title is especially appropriate. Billy Averett and his selection of "Football" a rockabilly song and one of Louisiana's favorite pastimes. Dusty Lightfoot Cashio's traditional Louisiana style soul love song "Just Another Woman" and Anita Raze Averett's Cajun country rocker "Louisiana Boy" about growing up and enjoying everything the "Sportsman's Paradise" has to offer.
Additional tracks include:
"Stupid Love," by Nukie Miller, a mid-tempo ballad about not wanting to be in love
Ras Wayne Vicks' "Get Your Shine On," a southern soul ballad about a guy wanting to prove to the world that he is impressive
"Steppin" by D-Whit, a party dance song about having fun after work
Blues/rapper Lee Tyme's "Big Daddy's Home" highlights a period in a man's life when he wants to be more committed to family responsibilities
The mid-tempo dance song "Bedroom Relationship" by Champagne confronts the issue of a love affair going nowhere
Henry Turner, Jr comments, "The music scene in Baton Rouge is very alive and vibrant. Nothing can stop it or our impressive talent. It is unfortunate that it takes a catastrophe to introduce our talented performers into the global market place. Everyone was eager to participate and show the world that we still are all here, the shows continues and we are survivors, not victims."
For additional information about Henry Turner, Jr. and the Great Baton Rouge Flood of 2016 release, please visit www.hitcitydigital.com
ABOUT HENRY TURNER JR:
Henry Turner Jr. and his band, & Flavor, have toured the United States, Canada and Japan. They have released seventeen singles and nine CD's. Turner is credited with developing a syncopated style of music that has come to be referred to as Louisiana reggae, blues, soul and funk.
He established Hit City Digital Records to produce Louisiana roots music. The small, yet diverse roster focuses on country, reggae, neo soul, blues and pop. He also operates Henry Turner Jr.'s Listening Room, which opened in Baton Rouge in 2014, and supports local, regional and national touring acts.
Career accomplishments:
Named an official Music Ambassador by the Louisiana Office of Tourism for his performance at Watermelon Festival at Santa Anita Park in Southern California
October 28, 2015 proclaimed Henry Turner Jr. Day in Baton Rouge
2016 Henry Turner & Flavor perform a month long series of concerts for the
Louisiana State Museum archives and their Music at the Mint program in New Orleans
For additional information, interviews and product requests, please contact:
Marcia Groff
Entertainment Enterprises
P: +1310-721-1591
E: entertainmg@gmail.com
Press and Media Manager "Great Baton Rouge Flood of 2016"
A Digital Compilation Album of Baton Rouge Recording Artists Directly and indirectly affected by 'The Storm with No-name' Produced by Henry Turner, Jr. for Hit City Digital Records
Catalogue # CAT87379
UPC Code 191079080960