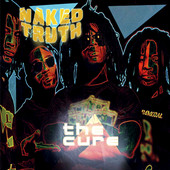 Here's the Naked Truth: These Guys Will Rock Your World
As an African American metal band in Georgia, the road to success was not easy. Naked Truth consists of Doug Watts on vocals, Jeff on bass, Bernard Dawson on drums, and Jimmie Westley. The band was discovered by former punk icons The Clash manager, Bernie Rhodes. Initially based in Atlanta, they relocated to the UK, where they released Green with Rage (1991).
The band was described as having an aggressive sound with some jazz and funk influence. Homesick bassist Jeff was then replaced by UK native Kwame Boaten. The follwing year, the band's ability to incorporate various genres was again seen in their EP Read Between the Lines.
The band later toured the UK, building a cult following before the release of Fight, in 1993. Their album received rave reviews from the Heavy Metal community. Kerrang Magazine said the album "should be heard now and often- because 'Fight' is unlike anything you heard in a long while." Head over to iTunes for all of Naked Truth's Blue Pie releases and click on the link below.
Purchase-Link