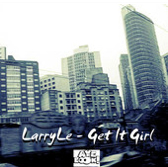 Hip-hop, rap artist LarryLe releases singles "Get It Girl" and "SWAGG" to the world!
There are a lot of artists out there who are trying to make their mark in the hip-hop scene, but LarryLe is an artist that really stands out from among the rest. Not only does he have the look and the attitude, but he also has the talent and the support that follows him around everywhere his music is heard.
With influences such as Baby, Lil Wayne, Jay-Z, Ditty, Drake, 3-6 Mafia, Yo Gotti, Tupac, B.I G., and Bones Thugs N Harmony, LarryLe is an artist who has found the way to both create and perform his work in a way that retains his unique originality.
"Get It Girl"  and "SWAGG" are two newly released singles released by LarryLe, that have been brought to listeners around the world through AyeLook Records and Blue Pie Productions. We're very excited to get the opportunity to work with this artist, we believe his attitude and his great sound is what will make him an act to keep an eye on.
Make sure to check out "Get It Girl" and "SWAGG" on iTunes today and show your support for LarryLe, who is one hell of a rising star!
Purchase-Link