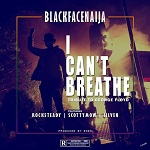 "I Can't Breathe" - BlackFaceNaija lends his voice to the George Floyd controversy.
"I Can't Breathe" is the phrase driving many members of the BLM protests across the world. The infamous words of victim George Floyd in his confronting last moments. Now BlackFaceNaija has also contributed to the use of this phrase, taking it as the title for his latest single featuring Rocksteady, Illven, and Scotty Mow.
"I Can't Breathe – Tribute To George Floyd" has also become quite the Youtube sensation, amassing tens of thousands of views in just a few short months. This music video was live at the time that the controversy was truly a topic of common discussion, so the fact that it's also now on Spotify and all other major online streaming services and retailers is just an extra bonus that'll really help cement the tune in the minds of the public, both musically and philosophically. The ethic discussion on display here is tense, and we may be seeing societal revolution unfold before our eyes – one can only hope a better world is on the other end of 2020.
BlackFaceNaija has really made a name for himself lately, and every day his music furthers his shining star in the musical cosmos. This is just one example of the quality he regularly produces!
BlackFaceNaija is a Blue Pie Records USA artist and published exclusively by Blue Pie Publishing USA. For more information on BlackFaceNaija please check out the following links.
BLACKFACENAIJA OFFICIAL LINKS: