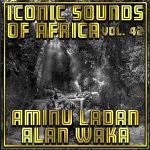 Iconic Sounds Of Africa! Discover amazing African talent!
Check your Spotify! Check your iTunes! Check every major musical retailer that you can count! The drums are beating, the ground is shaking, and passionate echoing vocals disturb nests of birds from the treetops! Iconic Sounds of Africa is HERE!
This is a series of compilations that number over 100 strong! With that much content ripe for consumption, there's bound to be something somewhere in all of these albums to please any kind of person you can think of. As you can tell from its title, this is the best of the best that Africa has to offer, so much so that the various artists featured could be considered iconic.

This is the special edition dedicated to Aminu Ladan Alan Waka. In fact, when creating all of these we decided to structure the distribution of the catalogue a little differently- each of them does not contain a whole host of artists as a compilation album usually would. Instead, each one is dedicated to a mix of tracks from a single artist! This is to prevent too many compilations being dominated by an excess of tracks from any given artist who we happen to have a large catalogue for. But the main reason is to allow us to cater each album by simply catering the artist- when creating a compilation, it is important to consider mood, genre, and style. There's no point in combining songs into a singular collection if it's a mishmashed jumbled mess with no thought put into its composition. Which is why it was our vision at Blue Pie to take songs that would naturally synergise and combine them together that way. And given that these are all celebrated African icons that we are dealing with, we decided the most fitting way to do this is to offer tribute to these icons- their own albums. A collection of tracks just for them and by them, rather than mixing various artists too often this time around. It's an experiment which we believe worked under the circumstances, very much so!
Whether you're a Hamisu Breaker kind of person…

Or you're in the mood for Nura M. Inuwa…

Or crave Fati Nijar…

Or need some Fantimoti in your life…

Iconic Sounds Of Africa has something for you in its smorgasbord of excellent music and musical styles, straight from the heart of Africa!
Whatever sound you crave, whatever dance you lead, whatever genre you adore, we're sure there's a beat in here you can move to! Not every volume of it is live on all retailers yet, but they will be soon, it's a matter of time and not a particularly long one either! Keep an eye out for this musical excellence and we hope you enjoy what we have to offer you so far! Explore Africa in the best way possible in the meantime… musically! Here's a complete Spotify playlist of every single song from the series available at the time of writing! Enjoy your musical exploration!