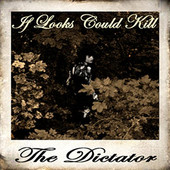 If Looks Could Kill Latest Single
If Looks Could Kill has released their latest debut single 'The Dictator' through Self-Made Records with smashing reviews! The act worked alongside 'Asking Alexandria' bassist Joe Lancaster to produce a works more heavy and guitar driven than ever before, and the results are epic! The solos are blazing and bass thick, complete with punchy drums and exceptionally dynamic vocals by front man Ben Pritchard to top it all off!
Self Made Records will work alongside Blue Pie to distribute and market the next wave of guitar driven rock stars! If looks could kill is one of the must-see acts of 2013!
"It's fair to say 'If Looks Could Kill' are a band armed with all they need to break their anger fuelled post-hard-core metal to the nation….prepare yourself'"
You can purchase If Looks Could Kill's single, "The Dictator" on iTunes Now!
Purchase-Link