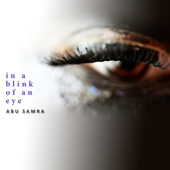 In a Blink of an Eye...New Album for Abu Samra!
Much can change In A Blink Of An Eye….

Abu Samra knocks out yet another highly stylised electro album with In a Blink of an Eye. Masterfully throwing an eclectic mix of house beats to create the chill out vibe he has so successfully achieved. Feel your body relax to the rhythmic sensations of his sound!
For more information on Abu Samra, visit his Facebook page today!
You can purchase this fabulous album on Amazon, or click on the link below to buy it through the iTunes music store.
Purchase-Link