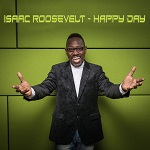 Isaac Roosevelt makes you have a Happy Day !
Isaac Roosevelt has made a major dent into the Euro Pop markets over the past decade. In recent times he has been featured on numerous ads in Germany, supporting major artists on tour and now after his ground breaking appearance on the Voice in Germany things are now rolling his way.
Constantly touring and working PINK! (September –2007), Solomon Burke (June -2009), Lionel Richie in 2014 / 2015 Isaac and his band Funky P have become a dynamic eight piece, a mixture of those involved in the album along side some serious new talent.
He is one of the hardest working entertainers in the world today and basically lives on the stage. With his new song " Happy Day " we think he has hit the mark. This song is detined to become a staple on European radio and looks set to not only crack radio but a number of great license placements as well thanks to the Blue Pie License Team.
As Isaac says:

You may know some of my past recordings byt honestly, if you haven't seen me and my band live then you are missing out on some incredible soul music. We all give 100% on stage and my band is just one of the best in the worldl. I look forward to making you HAPPY and giving you some joyful music in your day.

Check out the new track on Soundcloud below:
Purchase-Link