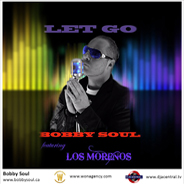 It comes from the Soul....Bobby Soul !!!
Bobby Soul's incredible, soulful voice is like none other. Bobby was brought up listening to classic RnB and Soul, enabling him to generate his own unique sound that resembles iconic artists such as 'Stevie Wonder', 'Earth, Wind and Fire' and 'Hall and Oats'. The multi-talented artist is a producer, singer, songwriter and engineer with a diverse background enabling him to generate music that is contemporary and unique.
He has worked with some of the most iconic artists globally including 'Justin Bieber', 'Keri Hilson', 'Flo Rida' and 'Kelly Rowland'. A testimonial to his sheer talent and market understanding.
He has toured and shared the stage with 'Snoop Dogg', '50 Cent' and many leading acts.  In 2017 Bobby Soul  signed a publishing and distribution deal with the WON Agency www.wonagency.com and DJ Central Records. In 2018 he released his debut single 'Let Go' ft. 'Los Moreno'. Listen to this soul classic below.
'Let Go' is a fresh, slow-paced, alluring beat that incorporates a some great classical guitar work generating a old school sound that echoes sound of Hall and Oats and 'Usher.
Bobby Soul is out now on DJ Central Records for the world. Listen to him now !
Check out 'Let Go' below:

Official Links: