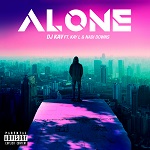 It's finally out! The much anticipated ALONE featuring Kay L!
Last time, he was just teasing us with the upcoming single, "Alone". But now Kay L has brought it to us for real, and it couldn't be sweeter! Presenting ALONE by DJ Kav, featuring Nadi Downs and KAY L!
We got something for ya!

Posted by Kay Layton on Sunday, September 27, 2020
In the weeks leading up to October 2020, we were all waiting on tenterhooks for this new smash hit in the works to drop, and looking at all this hype on social media, you can just envision how much it drove us nuts! We like to think we're patient people, but there are always limits… and that's why we've been listening to the track all throughout November! FINALLY it came out and we soaked it all the way in! Just LOOK at how much the hype train was heating up!
Pssst

Something BIG is coming!!!!

Posted by Kay Layton on Tuesday, September 22, 2020
7 Days till new music drops!!!

#Alone

Dakidt Usom RB Keys Kav Molavi Nadi Downz

Posted by Kay Layton on Friday, September 25, 2020
But that's enough teasing… even we're guilty of it now! Here's the hype new single!
Kay L is here day after day to prove to us that you can have emotional hard hits WHILE still telling a story with some of the most hectic flow you've ever seen. This is not only catchy, but the lyrics and deeper meanings of the story being told here cut right to the bone… as you'd expect of a passion project like this, all the emotions the artists felt while working on it are present and accounted for, while still managing to make it sound gorgeous! But that level of emotional investment is perhaps to be expected, at least to a degree. After all, DJ Kav and Kay L go way back, as you can see from this release they did together back in 2014!
This is a long game and Kay and his crew play it exceptionally well. Not only was Alone worth the wait, but it blew our expectations out of the water while it was at it! How do you even DO that?!
Kay L has been coming back for more fun with new releases periodically, not to mention the many awards that he's won and been nominated for! He's always somewhere in the scene, and for that we're always grateful! It's always a surprise how he'll pop up next, whether it be with a new single or video, a new award, or a giant mural, it goes to show how much he loves his craft, and how much his fans love him! And if you love Kay L too, and wanna keep your ear to the ground on any new releases from him, we have just the social media accounts and Spotify lists for you to turn to. Watch this space, because with how much he loves doing what he does, this definitely won't be the last we hear of him!


Kay L's Facebook page can be found HERE: www.facebook.com/thekayl
And his personal account can be found here! www.facebook.com/kaylmusic
Speaking of Facebook, check out this vid from Kay L himself… a video accompaniment to Love From Me! https://www.facebook.com/kaylmusic/videos/10161507364130473/