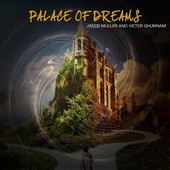 Jacco Muller and Victor Ghannam release "Palace of Dreams"
Blue Pie Records is excited to announce that recently signed Flamenco guitarist Jacco Muller, has just had his latest album "Palace of Dreams" made available for purchase on iTunes. The 15-track album features Jacco on flamenco and electric guitar and Victor Ghannam on oud, qanoun and electric oud.
The dynamic duo who have worked together previously on Muller's "Viento del Desierto" in 2009, have come together once again to produce a fresh and innovative sound that effectively combines different worlds and cultures to produce a high quality record.
The artists have successfully collaborated to create a unique blend of flamenco and Middle Eastern music with underlying influences of rock, jazz and belly dance. The album features lyrics in English, Spanish, Arabic and French combined with Middle Eastern percussion, Indian tablas, acoustic guitars and a rocking telecaster.
The title track "Palace of Dreams" which uses bright guitar tones, upbeat percussion and Arabic lyrics by a female vocalist, is one example of a host of tracks that not only showcases this unique musical concoction but Muller's superior technical skills on the guitar.
Palace of Dreams is out on iTunes for the world. You can download your copy via our purchase link.
Purchase-Link