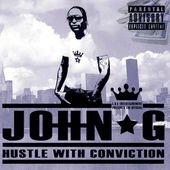 John G Delivers Powerful EP 'Hustle With Conviction' Reflecting His Life in Music.
African hip-hop artist John G has released his new EP Hustle With Conviction this year in February. The five tracks are a teaser for what could be a larger project in Gangsta Rap and Hip Hop for John G. Collaborating with fellow artists such as rapper Sky Dymex and singer who goes only by the name Stephen, John G has created music that reflects the world around him.
The first number on Hustle With Conviction is the only song where John G offers just himself. 'My Story' keeps a heavy bass beat and acts as an introduction to the whole EP. His verses muse about the vices around him but staying close to his faith keeping John G on his musical path. Expressing his music isn't a stereotype, it's just real life.
The next two tracks on the EP pick up the pace rapidly. 'From the Street' delivers a faster paced dance beat as John G raps about rising above the individuals trying to hold him back. Stephen features in this track to sing the main hook "I come from the streets." 'Increase the Peace' is more aggressive, with both John G and Sky Dymex spitting out verses about the street violence they see. With a grunting "c'mon" dropping into the beat, 'Increase the Peace' is a critical reflection about the life both rappers have experienced.
The final numbers in 'Hustle With Conviction' look at different aspect of John G's life. 'Thug Love' and 'Teach You Right' are tunes centred around love. Thug Love a slower tune that is dedicated to the woman is sticks by his side and Teach You Right is making a promise to show his love interest what love could be like with John G. Stephen provides vocals in both tracks, his deep voice featured in the chorus adding another element to the songs.
Hustle With Conviction is just the beginning for John G as a rapper and artist in the industry. Purchase his music now on iTunes.
iTunes: https://itunes.apple.com/au/album/hustle-with-conviction-ep/id1086800974