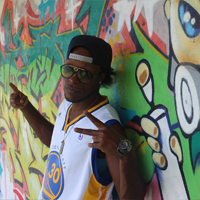 John G reveals all in new track 'Increase the Peace'
'Increase the Peace' is the latest track to drop from African hip-hop artist John G. The song produces a heavy bass beat and is accompanied by meaningful lyrics providing a raw insight into violent gang communities.
John G's career spans over decades and was highly influenced by the talented 'Tupac', whose death in 1996 encouraged him to fully pursue his career in hip-hop and rap.
John G's music is inspired by the world around him and often reflects on the life experiences many rappers have endured while trying to build a career.
"Hip Hop chose me and I have been rapping ever since I was 15 and never stopped. I have been blessed with all the musical influences that were around during my childhood and this has allowed me to develop my own unique sounds and raps".
John G's songs are based on love, loss and life, producing a raw emotion that will draw you in and leave you thinking.
'Increase the Peace' highlights the underlying truth of gang culture in a lyrical masterpiece.
Check out the track here:
Artists Links: