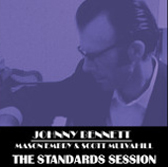 Johnny Bennett releases new EP titled "The Standard Sessions"!
"The Standards Session" is the second release by Johnny Bennett in his series of Jazz EP's.
With Bennett on vocals, Mason Embry on piano and Scott Mulvahill on bass, the album is complied of five songs, titled "Moonlight Serenade", "Drinking Again", "That Old Black Magic" (Featuring Kate Paradise), "Send in the Clowns" and "Pennies from Heaven" and was produced, engineered and mixed by Aaron Cieslikowski.
"The Standards Session" will be distributed through locations such as iTunes, where you can also find his pervious work.
Johnny Bennett is distributed to the world digitally by Blue Pie Records.
Purchase-Link