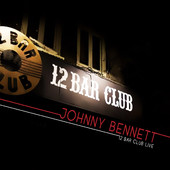 Johnny Bennett's 12 Bar Live Album Out Now !
Singer/songwriter and guitarist Johnny Bennett has officially announced his live album. '12 Bar Live,' as of the 13th March 2013. You can now enjoy 12 live produced tracks of Johnny Bennett as though he were in the flesh, playing his beautifully soft acoustic tunes especially for you.
Johnny Bennett called the '12 Bar Club' his home when we won residency over a span of 20 weeks. Each week he would begin his gigs at midnight, and give it all he had! The tracks turned out to sound so amazing that a live album dedicated to the venue quickly became a new release. The final set was recorded by Edward Koehler and mastered by Matt Stamos. It's available now, and can be purchased here!
Johnny Bennett has been busy blogging his success to promote the live album. He is overwhelmed by the praise he has received, and would like to thanks his fans and friends, as well as the wonderful team at the club for making him feel so welcome.
Keep up-to-date with the latest news on his official webpage and blog!
Blue Pie Records would like to congratulate Johnny for a wonderful live album! We hope the world will enjoy his songs as much as we do!
Purchase-Link