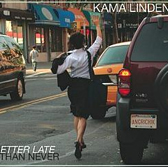 Kama Linden releases her new album "Better Late Than Never" on iTunes!
Kama Linden's latest release "Better Late Than Never" is a raw, true journey of a single woman's race against the "clock". Kama's lyrics speak deeply about realising the person you should have been with all along was right there all along, to the rights, wrongs, and injustices.
It is a follow up to her debut album "Uninhibited", still accentuating the stories of independence, love and emotion. Kama proudly claims, "I made this album the way I wanted, an album that gives an in-depth look into my personality, and views of the people around me. Not overly polished and over-produced."
Each song embraces her fresh, raw and intense vocal tone, which lays parallel to the lyrical content of both albums. "Her vocalizations flow with the music, as if it was another instrument in the band" states Donnie G, from The Rag Mag, NJ.
Teaching the audience that the real truth in life is in the Creator and in ourselves, "Better Late Than Never" captivates all with its vast and emotive tales.
With songs like "You've forgotten Me" and "Last call", you will weep, then transport to the dark side with "If Looks Could Kill, Drink, and "Easier" then be bouncing out of your seat with "All About", "Been There, Done That" and "Better Late Than Never".
Both "Better Late Than Never" and "Uninhibited"  are available to purchase through iTunes so make sure you check out Kama Linden today and show your support!
Purchase-Link