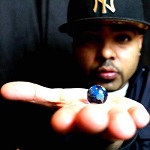 Kay L has teamed up with Bobby Blast'em & Bobby Soul to bring you "Love From Me"!
Kay L and his crew are back with a good one! The chill flow in Love From Me is not to be missed! Check it out on our Soundcloud right here!

Kay L and his homies are back in a big way, and you'll know as soon as you hear this pumping at your local club and you find yourself nodding your head to it!
After being acclaimed as the #1 opening act in Canada, Juno nominated artist Kay L has shown absolutely no signs of slowing down. Born in Zimbabwe, Africa and raised in the 5th District of Calgary's North East quadrant, Kay L is probably most known for his work with the group District 5. Known for his clever lyricism and intoxicating choruses, Kay L has established a sound that is nothing short of unique.
Touring with the likes of: NAS, SNOOP DOGG, AKON, RIHANNA, FLO-RIDA, THE GAME, REDMAN & METHODMAN, ASHANTI, GINUWINE, SEAN KINGSTON, OBIE TRICE, MARIO, FABOLOUS, PITBULL, BOYZ II MEN, EVE, D12, JOE BUDDEN and many more. Kay L has also been able to extend his talents far beyond his stomping grounds to countries such as Jamaica, where he toured with Drum n Dj a group whom he has experienced much radio success with.
As Kay L says: "I feel both blessed and honoured, to be given the opportunity to perform with such successful artists, I feel every show is an opportunity to learn and grow. Performing is honestly a part of who I am".
Through the success of his first mixtape "Nightshift", the countless A-list artists he has toured with, his witty yet intelligent lyrical skill blended with his compelling and contagious personality both on and off the stage, Kay L has created a buzz that is unrivalled by any other independent artist in the Nation, Stay tuned for his upcoming album "LOST"
Kay L is a WON Agency artist and distributed under DJ Central Records and Blue Pie Records for the world. The love of Kay L, Bobby Blast'em, and Bobby Soul is being passed down in this bop, from them to you, just like the title. Get ready to represent the new favourite clubbing anthem before anyone else has heard of it and spread this talent round to all your friends!
Kay L's Facebook can be found HERE: www.facebook.com/thekayl
Speaking of Facebook, check out this teaser from Kay L himself… a video accompaniment to Love From Me! www.facebook.com/kaylmusic/videos/10161507364130473