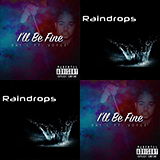 Kay L hits us with his record and lets us know that he will be fine !!!
The unique sound of Canada's Calgary based artist Kay L, has continued to capture the attention of listeners around the world. Kay L has already experienced tremendous success, which includes touring with major artists Snoop Dogg, NAS, Pitbull, Rihanna, The Game and Sean Kingston just to mention a few.
The Zimbabwe born artist is not content and has been hard at work throughout 2016, which has not gone unnoticed. After recently being nominated for Solo artist of the year at this years Obsidian Awards, Kay L continues to cement himself into the musical landscape and hopefully his musical ear worm songs will connect with you as well.
This month he was announced to perform at the YYC music awards in Calgary where he is nominated for Pop Recording of the Year, Rap Recording of the Year and Video of the Year. This is an artist everyone should be watching RIGHT NOW. It's only a matter of time before this Canadian star becomes an international success.
For now go check out some of his stellar hits including:
"Raindrops" (with DJ Kav and Voyce),
"I'll Be Fine" (feat. Voyce)
And our personal favourite, "Exit" (feat. Bobby Soul).
Check them out here via iTunes and Youtube:
I'LL BE FINE iTunes
https://itunes.apple.com/us/album/ill-be-fine-feat.-voyce-single/id1139892600
RAINDROPS iTunes
https://itunes.apple.com/ca/album/raindrops-single/id1083971305
EXIT VIDEO

I'LL BE FINE VIDEO