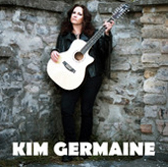 Kim Germaine returns to the music scene with her highly anticipated self-titled EP!
Despite taking an eight year break from live performance to raise her son, Kim Germaine, in combination with signing agreements with Concerthouse Music and Blue Pie Productions, has recently released her highly antipated self-titled EP to announce her return to the music scene.
Up until her hiatus, Kim was an integral member of the Niagara music scene and with having over ten years of valued experience within the scene, its hard not to understand why.
Kim's debut album "A Slice of Life", which was released in 2000, set a high bar for Kim's early success. Through the combination of this success and Kim's renowned 'go-getter' attitude it's safe to say that we expect great things from the release of this EP and any other work Kim expects to release in the future.
To check out the five track piece, which includes titles such as "Without Command" and "From the Pain", make sure to follow the Purchase Link below to her iTunes store.