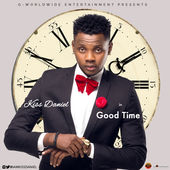 Kiss Daniel's new single as good as his previous songs! He doesn't disappoint us with his brand new hit 'Good Time'
Nigerian singer, performer and entertainer Kiss Daniel was remembered with his single 'Woju'. He use to play afro-pop songs and now he is back with a brand new song hedonistic in witch 'he just wanna have a good time' 'if you know what I mean'.
Kiss Daniel started his career as singer in 2013, he is a very young artist but he ever have a fanbase. He released his first song in 2014 with 'Shoye' produced by Beatburx. He is currently signed to G-worldwide Entertainment. After he won two awards in September 2015, with his song 'laye' he came back with a successful single 'Good Time'.This happy song is good to listen in holidays, with friends, to share good moments and so on. So do not wait more time and listen this song.
Listen to 'Good Time' now!

For more information on Kiss Daniel, follow the official links below: