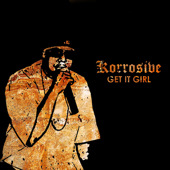 Korrosive will burn through your headphones with their hot and electric brand new tracks on his latest album Get it Girl!
Composed with original beats and lyrics,  he blows every other rapper out of the water. He is quickly becoming a worldwide sensation!  Rapper/producer Korrosive, shows no boundaries with his fresh new album. Get in and get it because "Get It Girl" is becoming a fast-seller!
For more information on future releases by Korrosive, head to his MySpace: www.myspace.com/korrosive00
To purchase Get It Girl on eMusic, click here! Otherwise, click on the link below to purchase his music through iTunes.
Purchase-Link