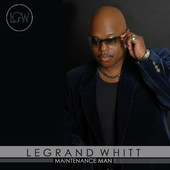 LeGrand Whitt Brings Out His 'Maintenance Man' With His New EP Album
Picture the perfect blend of Soul, RnB and Funk—this is exactly what LeGrande brings in his new EP Album "Maintenance Man".
This short but sweet-as album features two edits of LeGrande's latest track: 'Maintenance Man (Groove Edit)' and 'Maintenance Man (Radio Edit)'. Both tracks feature LeGrande's smooth tunes and silky vocals, which will caress your aural senses in a soothing and sensual manner. The hypnotic and melodic tones in these tracks will also make you feel like you're in a flashy apartment, sipping a glass of wine near a modern fireplace as you look over the night skyline of New York City. LeGrand has already enchanted many audiences across many benefits and talent showcases, and he'll have you hooked with his velvet voice in his latest album.
LeGrand Whitt's album 'Maintenance Man' is now available through many digital retailers, including iTunes.