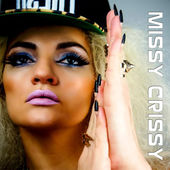 Let Your Love Be Out For Missy Crissy
Missy Crissy has burst onto the scene with her first album release. Self-titled "Missy Crissy" is eight tracks filled with electronic pop pleasure.
The Romanian singer was introduced to the music world from an early age, being inspired by her mother who was a very famous singer in Rep. of Moldova.
From the age of sixteen Missy Crissy has been working in the studio with various artists. Things started truly growing from the moment she was discovered by a recording artist named Smiley who is also the owner of one of the biggest recording labels in Europe "HaHaHa Production."
Missy recorded her first single with HaHaHa Productions "Let your love out" and very soon after the video was released. The song was a massive success. Starting with a sugary piano melody, the track, after Missy giggles "HaHaHa production," drops into a full blown pop tune. Missy Crissy's demand to 'let your love out' staying in your head long after the song finishes.
In August 2011 Missy Crissy toured this track throughout Asia. Spotting talent, many brands jumped on board as sponsors including "Chivas Regal" which was a massive achievement for an emerging new artist. This lead to the Elle Fashion Show Magazine feature on her 2012. In December of 2015, with the help of Raz B (B2K), Missy was spotted performing in Shanghai. Shortly after Missy was signed to world wide publishing and recording deal, DJ Central Records.
As of March 2016, Missy has over 3 Million Youtube plays and a growing global fan base. She is performing in Europe and China throughout 2016. With her debut album 'Missy Crissy' out now it's sure to make its way up the charts.
Have a listen to the first single on her debut album here.

For more information on Missy and tour | live show dates please visit the following official websites. Missy Crissy is a DJ Central Records recording artist and distributed for the world by Blue Pie Records USA.
Missy Crissy Official Links –