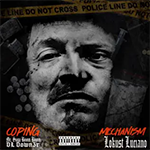 Like the single? You'll love the album! DL Down3r and Lokust Luciano's COPING MECHANISM!
We all have coping mechanisms to deal with the stuff that goes wrong in our lives. Some coping mechanisms are more toxic to our wellbeing than others. Lokust Luciano and DL Down3r know a thing or two about dark periods like that, and their recent single, Coping Mechanism, held nothing back in recounting the nitty gritty of what sort of pain that sort of misadventure can cause. The track is a frank introspective piece, giving all of us candid insight into what Lokust and Down3r have gone through. The song's format manifests as Lokust telling the listener about his struggles with drug abuse, and the excuses he gives himself and others in order to continue using drugs as a crutch. Then DL comes in, and effectively sits Lokust down to have a serious conversation about the dark path he's going down, from one friend to another, from one victim of drug abuse to another.
Well, here's a sequel of sorts. It turns out that Coping Mechanism the single was just a snippet of Coping Mechanism the album!
There's plenty more tracks on here than just the titular one, including Let's Talk About It, which recently got a banger music video all to itself!
As you can tell, the album is all about the coping mechanism of drugs, including the more comedic side of it – it can't all be introspective of course! Featuring Cordell Drake alongside the iconic duo, Let's Talk About It will put a smile on your face with Lokust's classic sense of humour, and is sure to be relatable in a lighthearted way to many people. After all, you'd expect a track that you can nod your head to with a grin when this crew is involved – just look at the recent NEW music video for Lokust's awesome throwback hit 90s degenerate! Click here to check it out here on Lokust's official facebook or watch it on the Youtube embed below!
This duo is making waves, and we're looking forward to whatever they bring out next, whether it be a sombre song like Coping Mechanism, a cruisey track like Let's Talk About It, or a classic party anthem banger. No matter which of these you're after, Coping Mechanism the album has something for YOU! But if you're out of the loop, who are these guys behind this album?
Lokust Luciano was born William Arciszewski on June 21st, 1988 as a premature baby, and diagnosed with Cerebral Palsy. He grew up in North Fort Myers and began writing poetry at the tender age of 9 years old. He has been active in multiple facets of the Hip-Hop scene since 1998. He moved to Florida for leg surgery when he was very young, as the medical world at the time (1988) didn't have a solid understanding of Cerebral Palsy yet, so he had to seek out an expert specialist. Orlando was the only place he could go for it, and he came out on the other side grinning. He is well known in the underground music scene for his production talent and lyrical delivery. He is also sometimes known by the handle "Crippled Kingpin".
The adversities he has overcome are now a part of his personal aesthetic, showing his strength and sturdy sense of humour. His creative drive is unstoppable, and we're sure you'll agree when you see some of the hits from his catalogue that have been turning heads his way! We'll see you there, and until next time, do what we're planning to do… keep your ear to the ground for some spicy new releases from the Kingpin himself!
For more, check out Lokust's bio here!
www.bluepierecords.com/artist/lokust-luciano
And of course there's DL Down3r, the mastermind behind Suga Boom Boom, which the lyrics of Coping Mechanism about "chasing dragons" are a reference to. Through fierce and funky west coast rap, DL Down3r shares his prolific work with the rest of the world, and the stage with west coast rap legends such as Coolio, Brown Boy, Jay Tablet, Lil Young, Snoopyblue, LadyDice, Baby Bash, Steel City Hustlers, King Z and DJ Kane to name a few.
From powerful messages, lyrical poetry and sharp comments on society, to G-funk and Trap/EDM hype songs, he proves that age and experience is the opposite of a liability in today's rap game. Blast it loud, get ready to feel something, and rest assured knowing that hip hop never died!
DL DOWN3R | OFFICIAL LINKS: