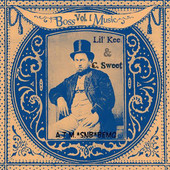 Lil Kee and C Sweet - Boss Music
Rapper, Producer, DJ and all round Hip Hop Boss Lil Kee has teamed up with Hip Hop artist C. Sweet to create his latest album "Boss Music". This album is sure to be a hit with fans as Lil Kee has crafted 12 up-tempo, yet gritty tracks which are sure to appeal to all hip hop fans.
This album, as with all of Lil Kee's music will be released through his label, Keezone Productions which he created in 2009. Keezone has been taking off landing local artists such as Jovan Black and producing collaborations between local talents and the likes of Plies and Gucci Mane.
This album is a must hear for anyone looking for heavy beats, catchy tunes and high quality rap. For more information on Lil Kee, music news, music downloads and new releases follow the links!
Purchase-Link