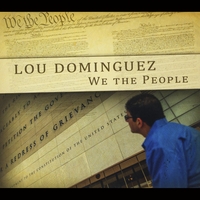 Lou Dominguez new album is more than meets the ears!
Lou Dominguez is back on the music scene and has released a new album titled 'We The People' that stands out from hit tracks. The album includes new tracks that are more than just catchy beats. Instead of repetitive and catchy lyrics, Lou's songs tell a story that many will be inspired, heartfelt, or intrigued about. Lou Dominguez even tells the story behind one of the songs in the album:
"Cornelius Dupree was convicted of a crime he did not commit. He spent 30 years in prison because he refused to make a plea bargain or to admit guilt and be released with time served. I can't stand being accused of a mistake when it's not my fault, so this kind of story has always intrigued me. The manner and the dignity with which he handled this awful period of time is nothing short of remarkable.Cornelius Dupree was freed with the help of the Innocence Project, and now works with the project helping free other wrongfully convicted innocents."
To share the excitement of his new album release, Lou Dominguez has even released a free song titled 'The Facebook Song' that you can download on his official website here. The song explores the truth about Facebook and the damaging effect it can have on its users. So if you're tired of listening to the same old repetitive catchy songs on the chart hits, venture outside you comfort music zone and give Lou Dominguez album a go in the link below. We guarantee you won't be disappointed!
Purchase-Link