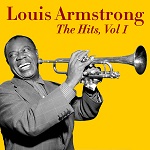 Louis Armstrong's THE HITS volumes 1 and 2 bring us way back!
The Blue Pie Archive is expansive and vast. If you ever wanted to stroll down memory lane, you could click here, or simply get a taster by looking at the playlist itself.

Part of that collection of classics that we're looking at today is Volumes 1 and 2 of Louis Armstrong: The Hits. Freshly restored just like the rest of the archive, Armstrong's unique vocal talents will send you way back into a golden age of music that's still talked about today!
These tunes are vintage in the best way possible, but our restoration team has ensured that their age doesn't mean a loss to their audio quality. It's the least that can be done, really, considering how much impact the legendary Louis Armstrong and his signature voice had on the classics of this golden era, and music overall.
As his fans say: Louis Armstrong was born in 1901 and died in 1971. He lived through both world wars, and yet he still sang about the wonderful things in our world, despite knowing the wretched horrors that live alongside the nice things. He valued the good things in life as more important – that strength of character and optimism can be clearly heard in his music. Although times are dire presently, he would continue singing were he alive today, and even in death, he's responsible for many a smile when his music is played on the radio even today. May he rest in peace. To listen to a collaboration of all his greatest hits in crystal clear quality, The Hits volumes 1 and 2 are the best place to go. And if you're wanting to explore beyond that, the Blue Pie archive has these restored classic albums and more, ready for you to relive at your own pace.