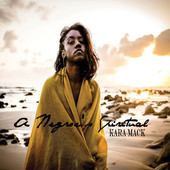 Kara Mack new release 'A Negroe's Spiritual' tingles the senses. If youre a fan of old school rnb than this is the album for you. Full of love songs that sooth the soul Mack's expressive voice and grundgy vibrato allows the listeners to escape into the world of soulful jazz and rnb.
"Kara Mack is a Columbia, South Carolina native with an old soul and a voice as sweet as a river. Understanding the power and gift of words, Kara uses the messages in her music to teach audiences of all generations. A multi-talented soul/world artist, Kara counts Lauryn Hill, Adele, Whitney Houston, and Be Be and Ce Ce Winans among her influences. Her ability to write and sing in other languages, including Italian and various languages of the African Diaspora, has made her a sought after songwriter for artists in the Los Angeles hip hop and R&B scene." – TheUrbanMusicScene.com
Kara has brought that Southern heart and soul with her with this album, speaking to the african communtiy as well as relating to all other audience. Members Cedric Lilly, Dani Lunn, Kahlil Cummings, Kurt Marshall, Peter Walden, Sam Wright have a knack with leaving audiences with a natural meditation.
The ablum has had rave reviews such as, "Beautiful voice and sound mix on "Hazel Eyes" Kara!!!" – John Revitte, Reverbnation and "Just got a chance to hear Black Man…really loving the vibe of that one!" – Turtles Patience Productions.
Album avaliable for purchase at iTunes
Purchase-Link