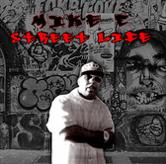 Mike C hits the ground with his debut EP " Street Life "
Mike C has been on the hip hop scene for 20 + years. Mike dispels any doubt when he steps up to the mic to let you know that he has a story to tell. These words of life and living and loving in a world that often overlooks the underclass has made Mike C a cult within his own community. Always ready to step up to the plate to tell you how the real world is, this is Mike C and his " Street Life " all boiled down to a sonic blast that will leave you gasping for more and more of his pulsating poetic hip hop beats that only he can produce that is " The Real Mike C ".
Mike C was born and raised in San Bernardino California, where he first discovered his musical talents. Because of his Mother's guidance he was kept out of the streets, out of mischief, and remained focused in his musical environment. Mike C had joined a  local Rap group called the "City Mc's" in which was a Top Award Winner for The 1st Annual Inland Empire Music Awards.
This is his " Street Life " – Dig it !
Purchase-Link