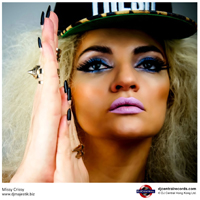 Missy Crissy will be pumping through every city with her new album
Missy Crissy's first debut album 'Miss Behavin' is an eclectic electronic anthem and showcases the talent of this emerging, new artist. The Romanian born first graced the music scene with her single 'Let your love out' which gained her global attention enabling Missy to tour Asia and receive sponsorship from a series of leading, international brands including 'Chivas Regel'. This led to her feature in Elle Fashion Magazine in 2012 gaining her a global fan base.
In 2015 she was spotted in Shanghai by the iconic Raz-B who contacted DJ Central Records and organised the signing of an international publishing and record deal which has led to her debut album 'Miss Behavin'.
Missy Crissy's album produces an array of electronic, upbeat pop tracks with appealing lyrics resembling an old school Lady Gaga. The album produces an extensive array of dance compositions providing a diverse selection of tracks that target a variety of markets. Each single is edgy and replicates mainstream electro pop, but also presents an exclusive sound that incorporates both Romanian and English influences.
'Primul Pas' reflects Missy's Romanian heritage complemented with an electrified beat, while 'Party All Night' is the perfect club banger with its fast-paced, rhythmic sound and catchy lyrics, reiterating the sheer diversity and talent the artist provides on this album.
Artist Links: