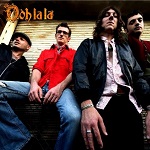 More Peace & Harmony! Oohlala get remastered!
Oohlala, is that a brand new remix and remaster from producer Gabe Rizza of www.gaberizza.com? It sure is, and it's a familiar tune too – More Peace & Harmony by Oohlala!
The Sydney band Oohlala formed in early 2005, after bonding on blues and brandy, funk and wine, jamming and gin. Collectively dedicated to their rock'n'roll roots, Oohlala have maintained a steady and regular presence on the live circuit as they strive to deliver their rock 'n' roll sermons to all and sundry. Managed by Michael Browning and Sam Righi, this power house team or rock catapulted the band into high rotation on selected FM stations in Australia. "Peace And Harmony" is the culmination of their many years of experience, and will have you nodding your head!
From the acoustic guitars and passionate vocals featured in "Love Will Be" to the sombre tones of "Sweet Something" or "Peace And Harmony" is the ultimate mellow rock album that every inner-city lounge room needs! If you're after smooth, chill rock and roll, this is the best place to get it! But this killer album isn't just what you've heard before of course – it's all redone expertly by Gabe. It's crisper than ever before, and more importantly, it's available on Spotify and all other major online streaming services and retailers. That's right, you no longer need the physical copy to jam out to this – no collector's barriers to entry any more!
You can find this and more hits by the cult classic band on the band's website, which was lovingly built by our webmaster Asif! Check it out here, and experience the convenience of the modern music age: www.oohlala.net.au
This album was also the talk of the town when it first released back in the day, so we're expecting a similar cult following to pay attention this time too! Well received appearances at the Peat's Ridge and Great Escape festivals further cemented the band's growing reputation as a great live act. Just look at some of these accolades!
"…Their songs, musicianship and stage presence could equal any international band that has graced Australian stages…" – The Drum Media, Australian Music Magazine.
"…This band is the blackest white band in Sydney. Oohlala is what The Black Crowes would have been today or what Mother Hubbard would been if they had stayed together" – The BRAG, Australian Music Magazine.
Peace and Harmony was a hit in both Australia and the UK, with rave reviews on www.rockunited.com in particular. They scored a 9/10 with Alan Halloway saying "Absolutely brilliant CD, hope they come to the UK one day". We feel the same, and unfortunately it's a dream that won't come true. While this fantastic collection will stand as a monument, sadly the band called it a day back in 2012. But here in the 2020s, their Spotify catalogue will remain, as perhaps will their radio popularity – especially with these new remasters! Either way, Oohlala will live on.
Never mind the ongoing debates about digital piracy and the future of music, the four lads of Oohlala intend to fully uphold the true virtues of rock'n'roll… fun, loose and loud and a sound sympathetic to all beating hearts and dreaming minds. There's plenty of it, across both of their Spotify profiles, as well as across all other major online streaming services and retailers. And with this excellent remaster in our arsenal, along with more remasters to come, there's only one thing left to say: Let there be rock.
Oohlala are a Blue Pie Records USA artist and published by Blue Pie Publishing USA (ASCAP)
ALBUM LINKS:
OFFICIAL LINKS: