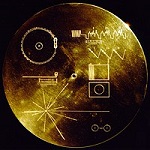 Move over Voyager, here comes The Moons Symphony from Amanda Lee Falkenberg!
Gustav Holst is famous for his Planets Suite, among many other wonderful compositions. Colloquially known as "The Planets", we now have a counterpart for them! Over 103 years later, we have "The Moons", ready to join Gustav's work in the intergalactic realms of space symphony. And of course, this all comes from the endlessly talented mind of Amanda Lee Falkenberg. As you can tell from her social media writeups, it's inspired from a very emotional place – here is an artist who adores the majesty of the universe!
Extensive research was undertaken in an effort to do the moons justice. Enceladus is a moon of Saturn that has caught the attention of astronomers recently, as beneath its icy crust may lie hydrothermal vents that provide the conditions allowing life to form. That's an ongoing process, involving sending satellites from Earth out past the moon to try to get a closer look, such as the iconic Voyager. Aboard Voyager was a set of gold records (as seen in the thumbnail of this story!) which carry greetings from humanity, including our various languages, music, and an encrypted pictograph designed to explain who we are as a species, even to an alien who would be incapable of reading our languages. These "Sounds of Earth" discs are referenced directly in Amanda's discussion of Enceladus!
Thematic inspiration isn't the limit when it comes to this symphony. Direct lyrics inspired by cosmic beauty are also available, as shared here:
Not only that, but the symphony is picking up traction across the world, with multiple radio events that have been running for a few months now, even before the symphony was fully released as a catalogue item!
And of course you know what that means: the album is out now!
If you want to experience The Moons Symphony, it's available on Spotify and all other streaming services and retailers, and it's even been compiled here into a full community playlist, which goes to show that Amanda's passion about our solar system is already moving hearts and minds across the universe.
But what of the creator? What kind of person is Amanda Lee Falkenberg? An Australian-born pianist and composer, Amanda has received many nominations, and has won multiple international contests.  These include The Great American Song Contest, Marvin Hamlisch emerging film composer contest in New York, The International Composition Competition in Italy, Hollywood Music in Media Awards (HMMA), and the Los Angeles Music Awards.
In October 2017, having just completed a concerto for piano and orchestra called "Crossing of the Crescent Moon" Falkenberg began work on this: her 7 movement Symphony called The Moons, which celebrates past, present and future missions to moons of our outer solar system. Falkenberg has given several presentations in Dubai and London to discuss her creative process as a composer, and earlier this year was invited to present at a Ted x Youth conference in Dubai – "Composing Music to tell the Secrets of the Moons". The Moons Symphony celebrates the merging of art and science to inspire and educate wider communities at large, to provide a theatrical foundation for the thrilling stories of these moons, and the spectacular discoveries being made in our outer solar system. Even if we cannot brave exoplanets on foot as of yet, we can still travel there with our passions and the work of our souls!
Following the TED Talk was a presentation in July at NASA/JPL, Los Angeles for the Cassini Project Science Group. This included lead scientists Dr Linda Spilker, Dr Earl Maize and Dr Scott Eddington. Amanda presented the music and scientific inspiration for four completed movements from her Moons Symphony. She had been consulting with lead scientist, Dr Robert Pappalardo, as well as Dr Ashleey Davies from NASA and Dr Ralph Lorenze from John Hopkins University/APL for accuracy during the conceptual phase.
That same month, she also presented her music from the 1st Movement of The Moons symphony dedicated to moon Europa at Caltech, Pasadena for the international Europa Clipper/JUICE scientists conference. The conference included the mission staff of Europa Clipper – lead scientist Dr Robert Pappalardo, former NASA /JPL Director Dr Charles Elachi, and director of Lunar Planetary Institute Dr Louise Prockter. The staff came together for the first time to discuss synergistic and complementary science with their teams, since both missions will be at the Jovian system at the same time. And now we can see the fruition: The Moons Symphony is an utter triumph.
It's clear to see that in all schools she dabbles in, Amanda Lee Falkenberg is a veteran and a visionary, and the things we've discussed today only scratch the surface of her work. She has gone far in her creative career, and for good cause. We are honoured to have her on the Blue Pie artist roster.
Amanda Lee Falkenberg is a Blue Pie Records USA artist for and is published by Blue Pie Publishing USA (ASCAP)