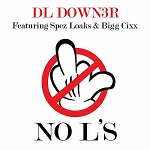 No L's is the hot new West Coast slapper from Down3r!
Down3r, Spez Loaks and Bigg Cixx have gotten together to produce a banger that the West Coast hip hop world is sure to never forget. No L's goes hard in the best possible way, and you'll be sure to know how hardcore DL and his crew are when you hear these bars drop!
Spotify- No L's:
Down3r is best known for his catchy tune Suga Boom Boom, a song about chasing the dragon of addiction. However he isn't afraid to show his level of clout with bangers like this, and listening to just a few bars will prove it to you.
Youtube- No L's official music video:
Down3r impresses us time and again with his popping tunes, and this is one the fans are sure to be bumping from their speakers for years to come.