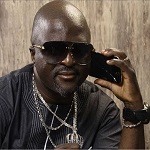 Obesere is Immutable! 2022 getting some fresh new content!
What's Obesere been up to? We last checked in on him when he hit 5000 fans on Spotify, and he hasn't really slowed down since then! Still maintaining the 5K+ monthly listeners on the platform, Obesere has been belting out singles throughout 2020 and 2021. Now, a new one hour juggernaut has come to claim 2022 as Obesere's own. Presenting Immutable!

Pumping the energetic drums will get you in a party mood, and your speakers will be immutable! Not to mention that this is a mega album in three parts, each song representing around 20 minutes each of pure Obesere dancing bliss! His passion for music and life in general is infectious, and if you're not getting it from the music, you'll definitely get it from the interviews that he's done! Obesere is larger than life, and his sweet beats reflect that!
Obesere won Best Fuji Musician of the Year at the City People Entertainment Awards in 2016 as well as Top Naija Music Legendary Musician Award in 2018. This isn't his first rodeo, and admirers all over Nigeria have heard and fallen in love with his voice. It's magnificent to see that attention also extend to the internet in a whole new way in the new year! It's almost March now, and already Obesere has staked his claim on the early days of 2022 with absolute ease with this new album.
A practitioner of Fuji music, Obesere was determined to stand out among his peers. His songs were deemed 'vulgar' by the wider Yoruba community for openly talking about issues that were deemed taboo. This controversial material, combined with an androgynous stage persona, got the attention of Sony Records and was promptly signed. Obesere created his own aesthetic of Fuji music called Fuji Pop, which he describes as a fusion of hip hop and the traditional sound of Fuji music. One of his prior albums, Hip Hop Mafia, is a perfect example of his aesthetic of combining different styles of music into one cohesive sound. This unique style has attracted thousands of fans around the world to his incredibly engaging concerts.
Throughout a career spanning four decades, Obesere has challenged the notion of what it means to be a successful musician in Nigeria and beyond. He has continued to raise the bar for others on musical prowess and integrity by maintaining a unique and authentic identity. We can see with this new funky hit that this won't be changing any time soon!
In 2019, Obesere signed a global distribution and publishing agreement with Blue Pie Records USA and Blue Pie Publishing USA (ASCAP) along with DJ Central TV, and life has been a little bit sweeter ever since. Obesere is a Blue Pie Records USA artist and available at all leading digital retailers on the planet. Search "Obesere" and "Abass Akande Obesere".
LINKS