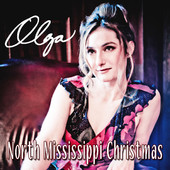 Christmas with the blues never sounded so good with this four track, easy to download EP from New Orleans singer-songwriter, Olga.
Olga's North Mississippi Christmas takes the Christmas traditions and makes them her own. She tells new stories through her lyrics and brings inspired images into the set with instrumentals that capture the peaceful calm that we all seek this time of year. "We Wish You A Merry Christmas" has some swamp blues tones going on, better bring out that pudding and a cup of good cheer!
This EP is available through iTunes and features tracks, "O Christmas Tree", "We Wish You A Merry Christmas", "It Came Upon The Midnight Clear" and "Deck The Halls"! A great gift idea to play you through the Christmas season!
For more information on Olga, check out her Official Website!
Purchase-Link