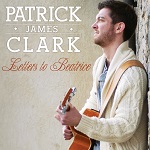 Patrick James Clark writes letters to Beatrice and releases his debut EP !
ConcertHouse Music recording artist Patrick James Clark is one talented song writer. He has just released his Nashville produced E.P "Letters to Beatrice"  which is now available on iTunes.
Playing live to growing crowds in Canada and already developing a large fan base his future is looking very bright indeed !
Working under the watchful eye of Ross Tonkin from ConcertHouse Music he is is constantly playing live at every opportunity he can. He graduated from Mohawk College in 2013, and in the summer of that year completed an online certificate program through Berklee College of Music. In the fall of 2013 he was signed to "Artist Accelerator" a development company/record label in Nashville. Through Artist Accelerator he went and recorded his debut E.P "Leters to Beatrice" and was spotted by Ross early in 2015.
With a strong work ethic and a great fan base already growing and now industry heavy weights are taking notice we are all hoping that Canada will have an answer to USA's John Mayer. He can sure as hell cut the mustard on guitar.
You can catch all the latest news and find out when Patrick is playing next by visiting his website at www.patrickjamesclark.com
We love the title track from this great EP and we hope you do. Check this out on SoundCloud below.
Purchase-Link