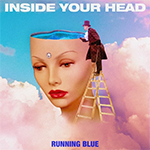 Prepare yourself: Running Blue are gonna get Inside Your Head!
Running Blue are a cult hit! Back when they released their last track, the remaster of Dream War Movies, it got some quick attention on Spotify, and they're continuing that track record today with Inside Your Head, showing how devoted their circle of passionate fans are! In just a couple of weeks, Inside Your Head has garnered thousands of plays on Spotify, with fans clearly waiting eagerly for RB to release their latest foray into musical bliss. You have two mixes to choose from here, the standard radio mix and the TP & GR (as in, the prestigious Tom Polce & Gabe Rizza) mix. The steady hands of the musical craftsmen who made this dream come to life with Running Blue have long studied the Art of the Earworm, so don't be surprised if this song is firmly in your memory after just a little bit of listening!
As ever, Running Blue's music is a throwback for the golden 80s oldies, forever young through their rebellious and catchy music! This track is a good look into the style and aesthetic of the band, one that any long-time fan would be all-too familiar with nowadays! Especially considering that unlike the remasters we've talked about previously, this is a BRAND-NEW track from Running Blue after all these years! That means it's had the chance to take all the lessons that the band has learned from their heyday AND the remasters of the modern era, and apply it to a brave new musical aesthetic. This version of Running Blue remains classic and vintage, but there's an undeniable air of fresh confidence that comes packaged with no longer being the new kids on the block. Running Blue have earned their stripes at this point, and as soon as that high energy drum kicks in alongside that cheeky bass, you know that they're in their absolute prime. The vocals in this track are unapologetically old school, as are the filters over the guitars, bringing one of the best periods of modern music into the 2020s and beyond. We're going through a bit of a retro 80s renaissance right now in our pop culture at large, and Running Blue are riding that wave for as far as it'll go… and we're wanting it to go on forever!
In 2021, we hinted that there are new songs in the works for Running Blue in 2022, aside from remasters. We promised that the music would be great, original, and have exceptional vocals from Mr Alan Kennedy and some cool synth pop from Michael O'Grady with Damien Reilly at the production helm. We're pretty sure that with fresh new releases of this quality, the band have delivered on our promise tenfold. Whether you knew the group by the names of either The Zilths or Running Blue, or whether you prefer the remasters of their old work or their new compositions, there's plenty of them to go around for whatever flavour you like best! Running Blue are BACK, they're here to stay, and we can't get enough of them.
You can check out all the news on Running Blue at www.runningblue.net
Running Blue are a Blue Pie Records USA and Blue Pie Publishing USA ( ASCAP ) artist.
TRIVIA:
The Band Members:
Venues and Gigs:
The band played throughout 1985 and 1986 at many venues across Sydney including:
The Student Prince Hotel
The Rose of Australia Hotel
The White Horse Hotel
The St John's Formal | Sydney University
The St Paul's Formal | Sydney University
The Annandale Hotel
Riverview School Reunion Formal | Balmain Town Hall
The Band Comp | The Round House | UNSW