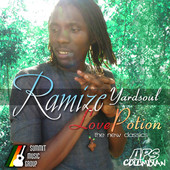 Ramize releases new album "Love Potion"
Reggae artist, Ramize from Kingston, Jamica has just released his new album 'Love Potion' in July of 2012. The 14-track album features songs such as 'Pretty Lady', 'Good Love', and 'Come Over'.
'Love Potion' demonstrates his Jamaican native music, reggae, with a mix of R&B that soothes and relaxes the mind. Ramize spent years listening to various genres of music that he found close to him and you can hear these influences in his new album. Ramize can be easily found on Facebook, Youtube, and various digital retailers.
Purchase the album today on iTunes!
Purchase-Link