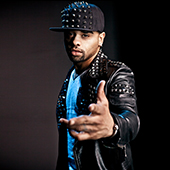 Raz B is hitting the airwaves hard with 2 new kick ass tracks with Hold Me and DJ - Check it out !!!
Raz B is one of pop music's biggest stars. Formerly a part of the multi-platinum group B2K, Raz B's solo career is just getting bigger and bigger.
His skills in production, stage presence, recording artistry and songwriting have ensured he continues to produce hit after hit. Having just released a track with hip-hop/rap legend Rick Ross titled "America 2 China", Raz has continued this momentum with the release of two new tracks " Hold Me " and " DJ " Featuring his good friend Mika Rose. Check out this track on SoundCloud:
Raz B Ft Mika Rose and the song "DJ"

The first track titled "DJ" is sure to get you moving. This club banger brings plenty of energy by combining a groovy synth bass line, Raz's smooth lyrics and the beautiful vocals from feature artist Mika Rose.
The second track "Hold On Me" is another banger from the former member of B2K. The track is sure to be a hit. The lyrical flow from Raz and the killer beats are truly mastery. Once again Raz has worked his magic on both these tracks and we can't wait to see what he does next.
Raz B and Hold Me

Check out all the latest news on Raz at the following official links:
www.razbmusic.com
www.facebook.com/RazBlive
www.soundcloud.com/razb2k