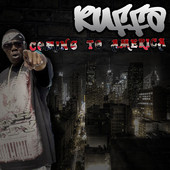 Ruffa releases album 'Coming to America!'
New artist, Ruffa has recently released his record 'Coming to America!'
The album is compiled of 13 tracks, including 'Put Your Hands Up', 'Til It's All Gone (ft. Haitian Baby)' and 'Good Man'.
'Coming to America' is a mixture of Hip-Hop and Rap, which will have you bringing out your inner gangster and pulling off moves you didn't think you were capable of!
Ruffa collaborates with other artists including Adina Howard, Haitian Baby, and Rochella, who add an extra element of colour to Ruffa's already catchy beats.
Grab a copy from iTunes today!
Purchase-Link