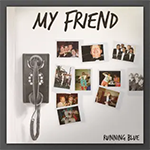 Running Blue ending 2022 and starting 2023 off strong! My Friend!
Running Blue sure do know how to end a year – this last track they released with Gabe Rizza and Tom Polce has us feeling very optimistic for this coming year of 2023, and we've been playing it non stop around our offices – we can't help it. The gentle and melancholy strumming of that addictive bass pulls us in and gets our heads nodding, and all of a sudden we've blasted through the entire catalogue by accident! Be forewarned of that, when you decide to hit play:
This track is sure to be a solid dark horse contender when considering Running Blue's song library. It continues their 80s bass strumming style with a vengeance, proudly wearing its pop cultural influences of the era on its sleeve, and the lyrics, as usual, manage to tell a captivating and emotional story due to their performance and their weight. Running Blue have managed to master the art of saying quite a lot with very few words.
Joining the crew once again are Gabe Rizza and Tom Polce who helped mix and master this track and have it sound as fresh as possible. It's like taking the sound speaker quality of the modern day, and taking a track that was fresh off the presses on a fated day in the 80s, and fusing them together in a marriage of professional quality and wild, rebellious creative spirit – the kind that was truly abundant back in those days. Whether you were there and like to reminisce on grander times, or are discovering what sort of music came before you were around, this musical synergy has it all, and My Friend is a glowing example to that effect.
Running Blue have really embraced their niche, and tracks like this are a prime example of that. With their music, you can be guaranteed that you'll be taken on a journey, told a story, and embraced by music from one of the greatest time periods in modern sounds! As time marches on and the 80s become more and more retro, resurgences like My Friend will always have their place in the hearts and minds of those who were privileged enough to witness this legendary decade – and you can tell just from how effortlessly Running Blue's music encapsulates that era, that they themselves are proud members of those witnesses!
With plenty of remasters of their classic hits as well as new tracks like this, Running Blue have got something for everyone, and this fresh new era for the band is worth celebrating: and we can think of no better way than playing some more of this kind of heartachy, devil-may-care rock music. Whether you knew the group by the names of either The Zilths or Running Blue, or whether you prefer the remasters of their old work or their new compositions, there's plenty of them to go around for whatever flavour you like best! Running Blue are BACK, they're here to stay, and we can't get enough of them.
You can check out all the news on Running Blue at www.runningblue.net
Running Blue are a Blue Pie Records USA and Blue Pie Publishing USA ( ASCAP ) artist.
TRIVIA:
The Band Members:
Venues and Gigs:
The band played throughout 1985 and 1986 at many venues across Sydney including:
The Student Prince Hotel
The Rose of Australia Hotel
The White Horse Hotel
The St John's Formal | Sydney University
The St Paul's Formal | Sydney University
The Annandale Hotel
Riverview School Reunion Formal | Balmain Town Hall
The Band Comp | The Round House | UNSW